Badminton Cook Islands are celebrating tremendous growth in the sport following a global pandemic which saw people rush on to courts and prioritise health and exercise once lockdown restrictions eased in country earlier this year.
After a three-week lockdown earlier this year, only non-contact sports were originally allowed to take place, seeing the inception of a popular female-only club (which had to run twice a week due to popularity).
Moreover, the Cook Islands National Olympic Committee became the first nation in the world to run a national multi-sport Games since the pandemic brought the world to a halt – the Cook Island Games – with badminton being a part of their eclectic sporting programme and over 100 players competing.
Consequently, participation in the Business House competition has soared – with a record 24 teams competing.
Targeted at local businesses, families and groups of friends, 'Business House Competition' is a local team event which took place once a week for 5 weeks in November, in an effort to reach new audiences and bring more talent to the court.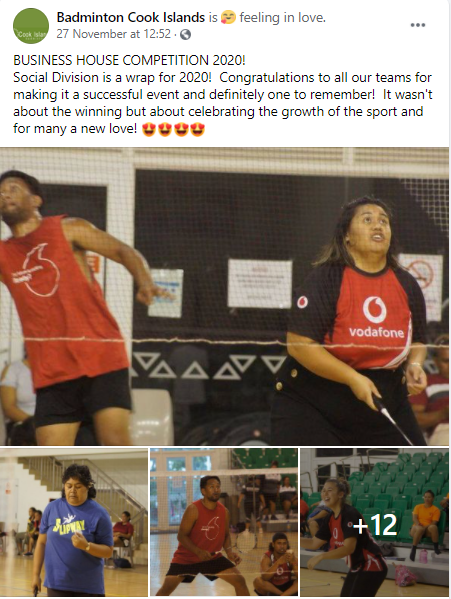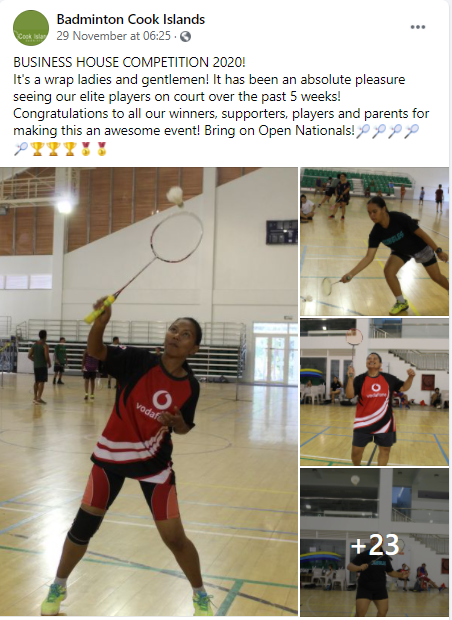 Following the COVID-19 pandemic and the nation's huge struggle with the loss of tourism has made the community element of badminton the essence of their activities, including paying tourism staff who have been made redundant (as a result of the global pandemic) to assist the delivery of increased badminton sessions in the country.
"With all the new interest we are trying to make the game a lot more accessible, especially during the day. We run three daytime sessions which has allowed us to help those who have become unemployed to make some money.
"They can oversee the sessions and ensure the facilities remain clean, which also helps to build the relationship with the facility owners, seeing as we are constantly booking more courts" , says Badminton Cook Islands President, Thomas Ngauru.
"I am more than happy to be helping the association, while able to earn some money on the side. Every bit goes a long way, especially during this COVID-19 period", says new recruit, Nooroa Vakatini.
Moreover, residents across the Cook Islands are using exercise as a way to cope with the uncertain future.
"There are also a lot of people who have reduced hours and are just sitting at home who can now benefit from the physical and mental effects of playing badminton", continues Thomas.
Badminton Cook Islands is currently hosting their Open National Badminton Championships and continues to plan for future social, female-only and business house sessions in 2021 – with the recent BWF Membership Grants also assisting their increased delivery.
Follow the latest updates from Badminton Cook Islands on their Facebook page.