The new outdoor game AirBadminton, with its diversity and the ability to be played on virtually any surface and landscape, makes an excellent option to push out badminton in our remote islands. With the lack of facilities, AirBadminton makes the possibility of delivering Shuttle Time realistic.
AirBadminton is the ambitious new development project from the Badminton World Federation (BWF) designed to create opportunities for people of all ages and ability to play badminton on hard, grass and sand surfaces in parks, gardens, streets, playgrounds and beaches around the world.
Given the diverse range of landscapes and stunning scenery offered in Cook Islands, the alternative version of the game is an exciting opportunity for players to get involved and enjoy the multiple health and social benefits of badminton.
Download our 'Getting Started' guide for some top tips to get involved with AirBadminton.
AIRSHUTTLE 2.0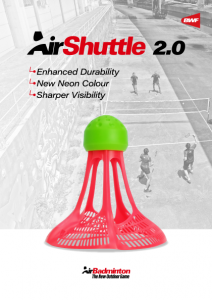 A new, more durable AirShuttle with increased visibility is now on the market.
BWF has been working with its manufacturing partners to further enhance the durability of the AirShuttle. This process has led to a recent breakthrough which has allowed us to not only dramatically improve the durability but also to introduce a neon colour which increases the visibility of the new AirShuttle in an outdoor environment.
If you would like to purchase AirShuttles, please contact thomasutangauru@gmail.com
AIRBADMINTON IN COOK ISLANDS